Michael J Hutton - Music Coach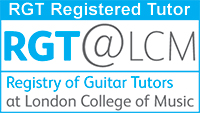 Playing for health and wellbeing
It is no secret that learning to play a musical instrument like the guitar or ukulele can have a positive impact on your personal health and wellbeing.
When I started playing the guitar as a teenager I had very little self-confidence and low self-esteem. I didn't realise it at the time but as I progressed I felt a sense of achievement, something I hadn't felt at school. I started to believe in myself, my confidence grew both personally and professionally, I felt more self-assured when going for interviews, making decisions and socially too. As I started performing, peers to whom I had been the butt of their jokes at school, now openly respected me for what I was doing. I can honestly say I would not be the person I am now if I hadn't decided to learn to play the guitar and you can benefit too, whatever your background and circumstance.
So how does playing help?
Below are just a few reasons why learning to play the guitar or ukulele are beneficial to both your physical and mental health and wellbeing:
It can be Therapeutic
Good for your Heart
Enhances Creativity
Helps Future-Proof Your Brain
Gives you a sense of Belonging
Strengthens your Support Network
Boosts your Confidence
Allows you to Express your Feelings
If you are recovering from an illness it can..
Assist the recovery of motor and cognitive functions in stroke patients
Reduce depression, even in Dementia Patients
Manage Pain and Healing after Surgery
Below are three articles explaining this in more detail but this is just the tip of the iceberg.
Scientific Evidence Suggests that Music can have a Profound Effect on Individuals by Dr Shilagh Mirgain
https://www.uwhealth.org/news/the-healing-power-of-music
8 Reasons why Playing Guitar is Good for your Mental Health by Claire Davies on Music Radar
https://www.musicradar.com/news/8-reasons-why-playing-guitar-is-good-for-your-wellbeing
A Spiritual Connection to Your Instrument by Dorit
https://www.guitarworld.com/acoustic-nation/acoustic-nation-spiritual-connection-your-instrument
Have a virtual coffee and a chat with me to tell me about your aspirations. And, if there is time, we'll pick up the guitar and play something!